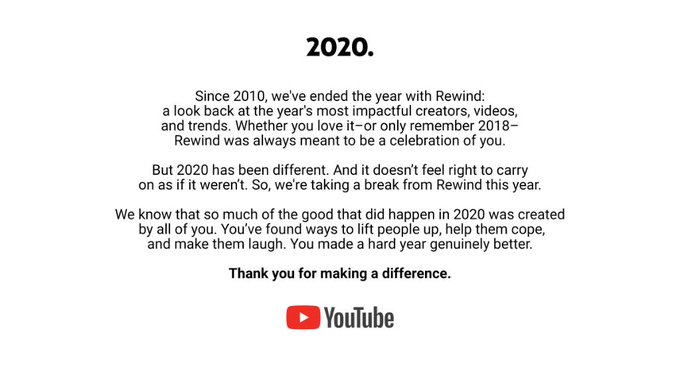 YouTube komt niet met hun bekende video-samenvatting van het jaar. De YouTube Rewind is een soort jaaroverzicht van YouTube. Elk jaar plaatst het bedrijf in december een video waarin ze laten zien wat er dit jaar allemaal is gebeurd. Wat vind jij van de Rewind van dit jaar? #YouTube
Virals, grote hits en de video's met de meeste likes komen veelal langs in de Rewind. Mashable zegt 12 november 2020:
The company's annual video recap of the year is infamously panned by creators and viewers alike. Although the company has taken different approaches, from scripted skits featuring different creators to last year's roundup of videos, YouTube Rewinds consistently receive abysmal feedback from the community. 2018's YouTube Rewind was the most disliked video in the history of the platform. It was so universally criticized, YouTube scrapped the skits entirely and for 2019 simply put out a list of the most liked videos of the year.
In 2018 werd de Rewind zeer slecht ontvangen. Bekijk hieronder de Rewind van 2019 met reacties:
"We know that so much of the good that did happen in 2020 was created by all of you," the statement continues. "You've found ways to lift people up, help them cope, and make them laugh. You made a hard year genuinely better."